Microsoft Teams vs. Slack: Which is Better for Your Business?
The team at Sunstate used the messaging app Slack internally for years, before migrating to Microsoft Teams (which we love). Here's our take on how you might decide which platform is better for the average business:
Does your business need a messaging app?
If you aren't currently using any messaging app, here are a few reasons why you might want to adopt one:
They enable instant communication amongst team members and with customers. No more waiting a day or two for an email response (and no more impatient customers).
They really help clean up your inbox. Let's face it, some conversations do not require a lengthy email chain. Leave those to a messaging app instead.
Because instant messaging is more like a real-life conversation, it helps keep team members and customers engaged with you on a personal level, breaking down barriers in ways that email can't.
Microsoft Teams vs. Slack: functionality comparison
Check out the chart below. As you can see, Teams is basically an all-in-one platform for messaging, conferencing and collaboration, offering MUCH more than Slack alone. (We think of it as a digital office space.)
But the most important difference?
Teams provides unlimited message archiving. Slack does not.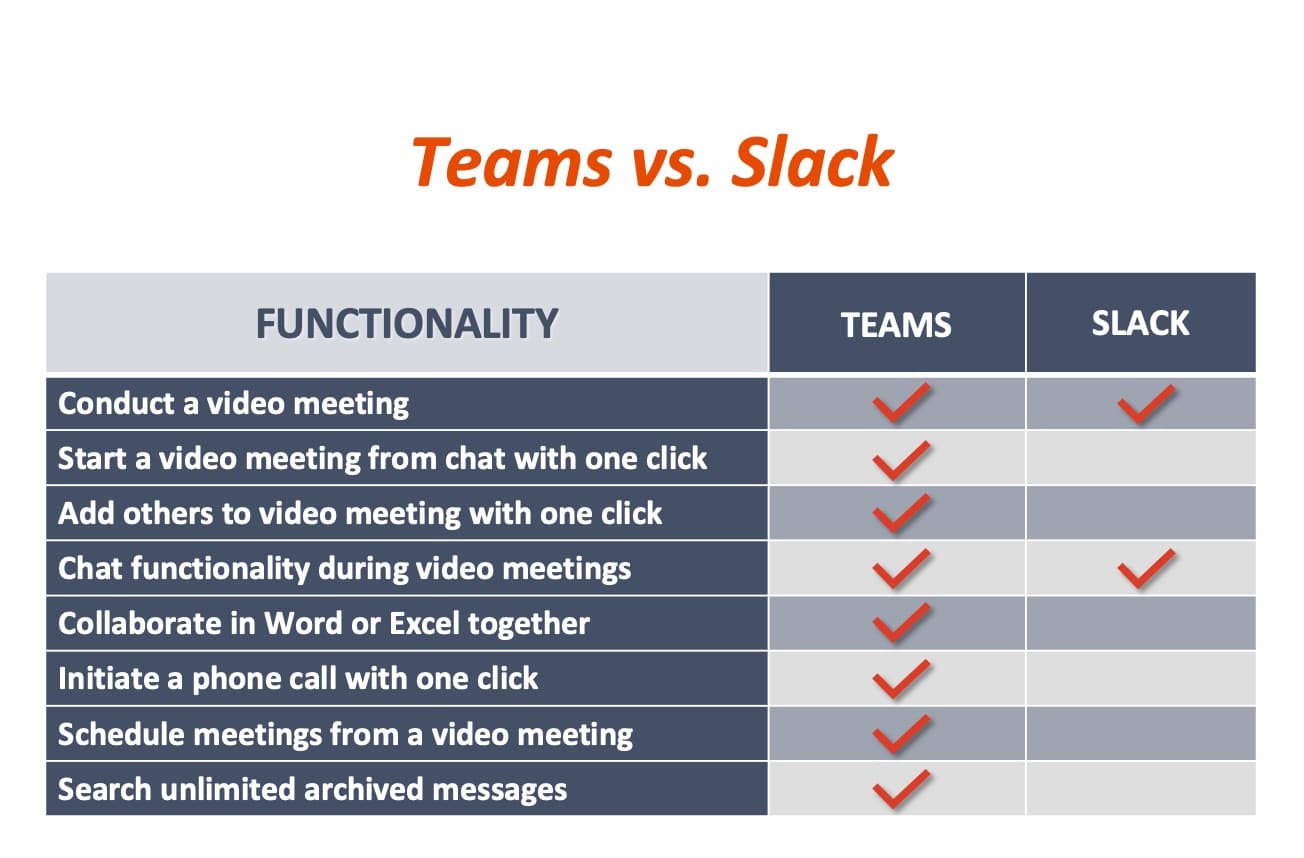 Is it easy to use Microsoft Teams?
Absolutely! When Sunstate made the switch from Zoom and Slack to Teams, we found it to be very well organized, easy to learn and (actually) fun. Teams' user-friendly design makes it simple to see what's going on at all times. We've found it helps us all keep our conversations and projects more organized (and with less effort).
Bonus: since the switch, many team members have said they feel more connected…which is important in a business with multiple locations across two states.
How to get Microsoft Teams for your business:
Teams is already part of Microsoft 365, so if your business has 365 you can begin using Teams right away! If you're not yet on Microsoft 365, Sunstate's expert tech team can help you migrate your organization…AND we can help train your team to use Teams. Just give us a call!