Microsoft Teams vs. Zoom: Which is Better for Your Business?
Curious which is better for your business, Microsoft Teams vs. Zoom? We've got some helpful insights based on our own professional experience with both.
What does your business need from a communications platform?
First, consider what your business needs are. Do you only want the ability to use video conferencing? If so, Zoom might be all you need.
However, if your team could benefit from added functionality like instant online collaboration in Word or Excel, seamlessly moving from a group chat to a video meeting with a single click, scheduling meetings from a video meeting, and unlimited archiving of chat messages…then Teams might be right up your alley.
Microsoft Teams vs. Zoom: functionality comparison
Check out the chart below. As you can see, Teams is MUCH more than a video conferencing platform. It's a one-stop-shop for messaging, conferencing and collaboration. Think of it as a digital open office space. It's Zoom, Skype and Slack all rolled into one.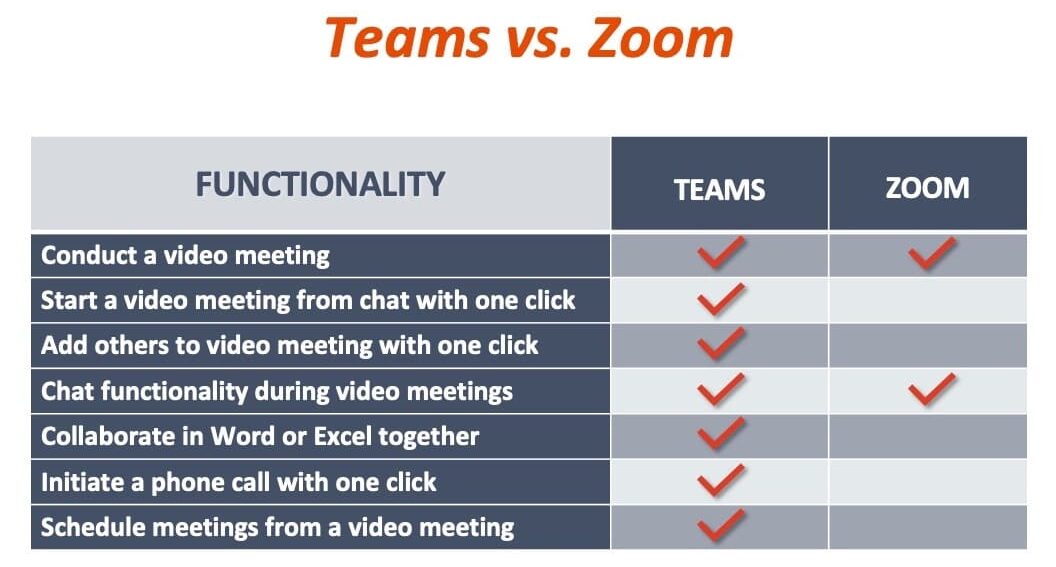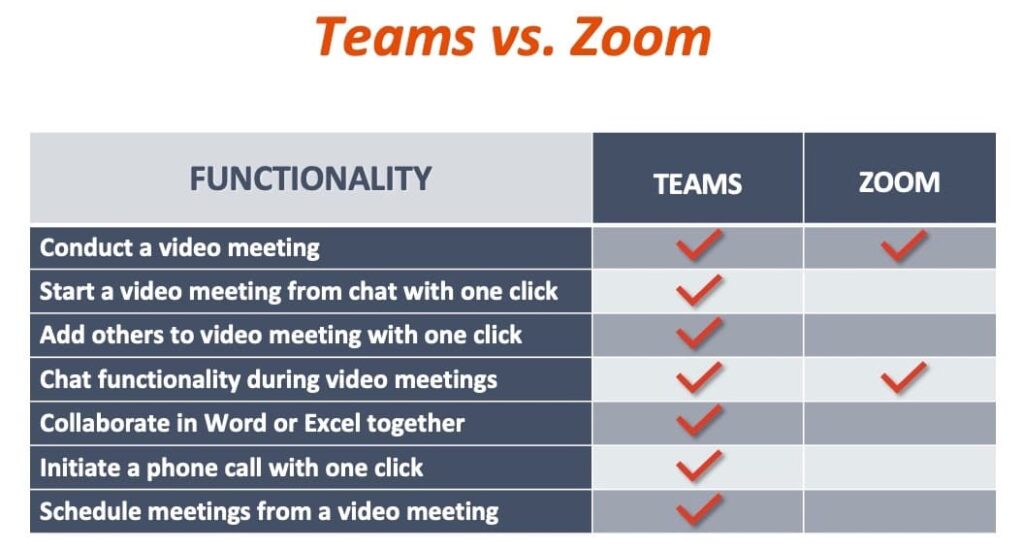 Is it easy to use Microsoft Teams?
Absolutely! When Sunstate made the switch from Zoom and Slack to Teams, we found it to be very well organized, easy to learn and FUN. Teams is laid out in such a way that it's easy to see where things are happening, and it helps keep conversations and projects organized with less effort. Many of our own team members have commented on the fact that they feel more connected to each other.
How do I get Microsoft Teams for my organization?
Teams is part of Microsoft 365, so if your business has 365 you can use Teams right away! If you're not yet on Microsoft 365, we can help you make the switch…AND we can help train your team to use Teams. Just give us a call!