Business VoIP Phone Service
Revolutionary
On-Premise or Hosted Phone Options
Replace your old school phone company along with their pricey bill when you switch to a phone system built specifically for modern business communication:
Voice over Internet Protocol or VoIP.
Not only is VoIP call quality superior to traditional phone services, VoIP is far more cost-effective and offers a wide variety of business-friendly features to enhance your company's productivity. In short, it's a must-have for any company in the 21st century.
Choosing a reliable IT partner is a big decision for your business. Find out why businesses have trusted Sunstate to manage their technology for over 15 years.
Not all VoIP solutions are created equal.
See the benefits that we bring to the table. This will help you to make the right decision when it comes to choosing a VoIP provider.
VoIP solutions can be installed directly on your company's computers. This allows you to eliminate phone wiring to help simplify and declutter your workspace.
If you have multiple branch offices or locations, you can easily connect the phone systems between branches. This helps your employees make calls faster, easier and for free.
Our VoIP solutions are based on the open Session Initiation Protocol (SIP) standard which allows users to add a variety of features without adding additional hardware or expenses.
Employees often struggle with using advanced phone systems and taking advantage of their additional features. With Sunstate Technology Group's VoIP solutions, all features are intuitive and easy to access from a user-friendly Windows interface.
Traditional phone systems are easy to outgrow. Adding more phone lines or extensions often requires a lot of time and expensive hardware modules. With Sunstate's VoIP solutions, a standard computer can be used to easily manage a large number of phone lines and extensions. Adding a new phone to your network is very easy.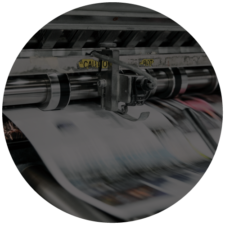 Our customized VoIP solution allowed newspaper publisher Kramer Media to streamline operations, cut telecom costs and gain much-needed functionality.
No internet? No problem. Poor internet? Still no problem.
We have a solution for that, too—with multiple failover options to ensure you stay connected.